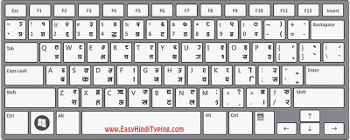 Hindi is the most commonly spoken language in India. It is the fifth most spoken language in the world with about 182 million native speakers in 1998. The script used in writing Hindi is Devanāgarī.
Hindi is widely written, spoken and understood in north India and most other places in India. In 1997, a survey found that 66% of Indians can speak Hindi. The most common form of Hindi is known as Hindustani. It has taken words from the Dravidian languages of South India, many words from the Persian, Arabic, Turkish, English, and Portuguese languages.

Hindi, or more precisely Modern Standard Hindi, is a standardised and Sanskritised register of the Hindustani language (Hindi-Urdu). Hindustani is the native language of people living in Delhi, Haryana, Western Uttar Pradesh, Bihar, northeastern Madhya Pradesh, and parts of eastern Rajasthan, and Hindi is one of the official languages of India. Colloquial Hindi is mutually intelligible with another register of Hindustani, (Modern Standard) Urdu, which is associated with the Muslim religion. The two varieties of Hindustani are nearly identical in basic structure and grammar, and at a colloquial level also in vocabulary and phonology. Mutual intelligibility decreases in literary and specialised contexts, which rely on educated vocabulary drawn from different sources; Hindi drawing its specialised vocabulary from Sanskrit, whilst Urdu does so from Persian and Arabic.
People who identify as native speakers of Hindi include not only speakers of Hindustani who are Hindu, but also many speakers of related languages who consider their speech to be a dialect of Hindi. In the 2001 Indian census, 258 million people in India reported Hindi to be their native language; as of 2009, the best figure Ethnologue could find for speakers of actual Hindustani Hindi (effectively Khariboli dialect less Urdu) was a 1991 figure of 180 million. This makes Hindi approximately the sixth-largest language in the world.